The Chinese grocer down the street got shot a couple months back.
Normally I´ve found Costa Rica to be pretty calm. My friends and I were sitting ducks in Guanacaste with all our computer equipment and close to no security. People in the area knew who we were. Nothing happened. When I lived up in the mountains I´d leave my front door open at nights.
My poodle has become protective of this house. He doesn´t like it when there is noise outside. Obviously, there's nothing going on most of the time, but his wariness makes me proud. I have three shells of support before you get into my house. Normally I leave two of them open, leading to the garage.
When Mayo hears the noise he looks at me and the doors. I oblige and lock them for him. He takes his bone and climbs to the chop of the couch so he can look out the window. As he gnaws on his toy and keeps a look out I'm awed.
Jane Goodall, when asked what her favorite animal was, surprised her interviewers by saying dogs. She said that after analyzing our closest genetic siblings it was simply fascinating how well dogs got on with humans. I couldn't agree more.
It makes me feel there is a design to everything. My dog and I are supposed to be holed up here, because the threat of evil is necessary. We're supposed to appreciate our days more because they can always be taken away.
You only find the warmest bed in your life when you come in from the cold.
I went to a Japanese garden today with my fiance. You know, because I'm cultured like that. Other than this one pack of horses' asses we saw at the beginning the whole place was peaceful. We saw some botanical gardens, cactus, and of course the Japanese garden and temple the place is famous for.
We stopped to eat at one point, opening some food we picked up at Wal-Mart. Why we went to Wal-Mart is beyond me. I'm fine with huge corporations, mostly because I want to bash every Seattle yuppie I grew up with. However, Wal-Mart did not make anything really good today. Sandwiches, a pastry, everything was garbage.
Then I came to the mandarin orange. I opened it up, surrounded by a pond and the soft gasps of Carp. I just kept looking at it. All the money Wal-Mart has and they can't make a half decent sandwich, something I've gotten at a number of dives. Yet, this Mandarin Orange. Is this man-made? How is there a natural wrapping around it so you can travel with it? How does it break into bite-sized chunks when you open it? What evolutionary purpose could a banana or orange possibly provide?
I'm sure there is some convuluted answer that some snarky ass self-proclaimed intellectual will provide me. I know this world works perfectly in an evolutionary sense. I simply feel like I've denied myself a great satisfaction my whole life. I live in a Swiss Watch. The pain makes the gears turn.
Life has been good as of late. Haven't blogged in a couple days. Took some well needed time to get my head together.
Wednesday I went to a government office here to get my fingerprints taken. I was told to show up at 4:30 AM to make sure I got in for the day. I said fuck it the night before and woke up at 7:00. I got there at 7:30 and waited for four hours in line. My compadres for the morning were a group of overweight Nicaraguans who I would bet good money have not had a shower in a year.
By the way, I <3 and="and" be="be" because="because" before="before" cat="cat" gone="gone" happened="happened" i="i" it.="it." just="just" like="like" multiple="multiple" nicaragua.="nicaragua." nicaraguan="nicaraguan" p="p" people="people" piss="piss" smell="smell" sweat.="sweat." there="there" these="these" they="they" times="times" to="to" ve="ve">
When I finally got to the front of the line I felt like I entered a Venezeluan government office from the 50′s. The tiles were smeared with dirt and gum stains. They were checkered red and yellow. The computers were from the early 90′s. Half the file cabinets had the handles broken off of them, replaced with twine the employees had tied on.
A nice man studied my papers and then approved me. A Lesbian then smashed my fingers into ink and then on a piece of paper repeatedly. Coming home, my fiance's brother, who is a cop, told me he could have done the fingerprinting process in five minutes at his house.
Was pretty crapped out for the rest of the day. I played with PS2 and SNES games on the emulator hooked up to my big screen. I don't know why but I keep coming back to the imperfect Timesplitters: Future Perfect for just one more level. The difficulty curve is nice. I die once in a while but not enough to get frustrated. There are frequent checkpoints. The game tricks me into thinking I'm good.
I've been playing Tetris for the first time in my life. Wow, that game is hard versus good players. I miss Egg Mania.
Yesterday I took care of four lessons. I then had a ton of scheduling to do, considering I'm my own secretary now. There was a bit of a rush after that Pocketfives article came out. Thank you guys for that. Really appreciate it.
My fiance's brake light broke. I went to a hardware store with her to pick up glue to fix it. This fat guy with fake bling from a gumball machine asked me what I needed. I was too tired to speak in Spanish, and Naty seemed to pick up on it. She asked for the glue, and the guy seemed pissed I let my fiance talk for me.
He said "this is the best." I took it home and tried to fix the brake light for my girl. The glue he sold me was complete shit. Pissed off I just scotch taped the thing for the moment.
I'm positive this guy railroaded me. It just bewilders me that someone enters business who genuinely hates a lot of people. Sociopaths and jackasses are attracted to money though.
I do not agree with the conservatives in the United States on 90% of their issues, but people need an attitude check. Most people work shit jobs because they suck at what they do, and they think they're so special they do not need to improve. I do not need to tip them for their stunningly normal performances and neither should the government. However, we need to recognize that businessmen are given the job to make as much money as possible, and the government must make some mandates so they don't cut human corners.
Now people get screwed out of most of their paycheck anyway. Romney told you it was because of theeeeeese people who don't put in their fair share (BUT HEY I LOVE BLACK PEOPLE, I DID NOT SAY BLACK PEOPLE…BLACK PEOPLE). Obama works for the same banks, but he tells you if we just tax a liiiiiiittttle more we'll all be living in Candyland for the next four years.
By the way, corporations who year after year don't pay anything, good for you! Here's a bail out! But you self made millionaires, you're not paying your fair share, it's your fault.
I recently started teaching for some backing houses. I re-evaluated my teaching techniques and decided to do more structured lessons based around the students needs. I got my articles and Powerpoints together, and start sending them off as homework to every student. I could have been a jackass and strung out my students by making them watch the Powerpoints during lesson time, but I can offer a superior consultation and I want to do that.
Has that hurt me? No. I have more work and good things going for me than I ever have. I have carved a new niche for myself in a growing market.
I know a lot of guys who traded on their cheap fame of the moment and jerked around their students. Now they don't have so much money, and guess who has no consulting work?
I am all for people failing, losing their money, and shutting up. Come back new.
There's this guy in California. He lost his job, and was unable to afford his medication for bipolar disorder. He lived out of his car for a long time. The medication part bothered me. How can he get another job if he is suddenly taken off his medications?
This man met a woman and she gave him a job. He tended to all the gardens on the property and fixed everything in his spare time. He made himself necessary and useful. He didn't just do the bare minimum. He eventually could afford his medication. He's doing much better now.
Other than ranting on this blog I've been doing pretty well. I'm bewildered at the success of what I now legally call consultation services. The videos, the discussions with stables, the webinars, all the daily lessons. I feel like all the work in poker and my outside ranting in blogs has led me to something huge. I'm dumbfounded. I feel so blessed. I can't word it. I never thought by 24 I'd be this stable.
But you know, it's just starting. You don't get to just go to work and make money. You can stay in a business for 5 to 10 years before you meet real success. I've watched myself blow given opportunities before. I want to atone for my stupidity, and grind this out. I can't stop till my mom is in a house. I can't stop till I take care of the woman who picked me up. I don't feel down. I feel up. I feel amazing.
I can't rest. It's just not in me right now till the deal I started is done. I've seen this since I was playing games in my high school cafeteria. I knew I could make this work. I found every conceivable way to slow myself down, because I was sheltered and stunted. I just want to show appreciation to the work God has given me, for the chances He's given me, through the effort and love I give.
So many blog readers have come out show love through the lessons. I'm booked for another month. Four or five lessons a day, minimum, not counting all the other work. First appointment is going off at 7:30 AM, I can't leave the Eastern Europeans high and dry.
I wasn't comfortable at first with the idea of being a full time coach. I thought of Stox right before his downfall, and how I didn't trust a guy who said "I'm just coaching." You look at every other field however there are analysts, consultants, managers, and coaches. There's a niche in poker for that I will see filled some day, and I'm not going to rest till it is.
Slow it down. No actually, just read it twice. I like when things have two meanings.
Yeah this blog flew out of control. You know, some people like to lay around and watch baseball. I like drinking coffee and writing. I like thinking. I like discussing new ideas. I like pacing till I can prove something eight ways till Sunday. Never thought I would get paid for any of this.
Took my dog to the park. Watched him run around with the dusk. Few things make my heart feel as whole as talking about life with my fiance while I watch Mayo run around and say hi to everyone.
Watched a documentary with my fiance called Capturing The Friedmans. That was an uplifting piece. Probably will write a throwaway review on that.
Also saw Looper today. It just came to Costa Rica. I will not write a review on that. People enjoy the reviews of weird books and movies they would not have otherwise read or watched. Think I'll keep it to that.
I enjoyed the movie, it was very well written for an action film. The lips and eyebrows of that kid looked very different. It was if they were trying to make him look older. Bruce Willis was excellent, although I laughed at him lugging his gut around. Love to see him in action movies, even when he's getting older.
You notice how the future is always a dystopia now? When my parents were kids they were treated to flying cars, the Jetsons, and Disney's Tomorrowland. We're treated to crumbling and polluted cities with a melting pot of languages facilitating our barking for new drugs.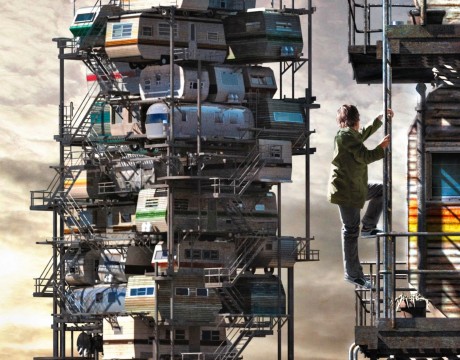 Maybe they just don't want to spend money on futuristic sets.
Staying in the fortress. Think I've spinned my wheels enough. I'm running back ups on everything. I lost every piece of my writing and picture I took over the first four years of my career. That is not going to happen again. Online and external hard drive backups ftw.
3>